03/05/2005
While passing through Seattle, we stopped for a couple of days to relax. While we were there, we found a delightful park on the north shore of Lake Union named Gas Point. It's actually the site of an old coal gasification plant. Some of the bones of the old facility have been preserved, and the rusting hulks of pipes and storage tanks lend create an odd contrast to the green grass and the mirrored waters of the lake.
Gas Point happens to be a good place to start a bike ride along a bike trail that parallels the canal leading to Puget Sound. While we didn't make it all of the way to the locks, we did see a large ship motoring down the canal on the ride back.
The other highlight of our stay was the Science Center. In addition to a couple of IMAX theaters, they also have a butterfly house.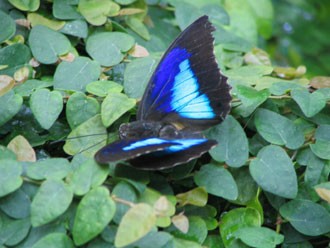 It's actually a large greenhouse filled with tropical plants graced with hundreds of butterflies drifting through the warm air. It's impossible to avoid smiling when a huge iridescent blue butterfly drifts past your nose or lands on your sleeve.
Once past Seattle, we decided to take a short side trip to see Mt. St. Helens. There are several visitor centers on the road to the peak, but most were closed for the winter. We did make it up to one that had a magnificent view of the base of the volcano (the peak was obscured by clouds). While most of the hour-long drive was surrounded by lush forest, the heart of the blast area is still devastated. It was an impressive, and sobering sight.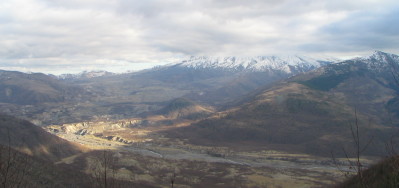 The trip back down to the freeway offered a magical diversion when we spotted a beaver dam near the road. It was a short walk to his pond across a lush meadow littered with deer and elk droppings. The beaver had actually erected three dams, creating a landscaper's dream of pools gurgling from one to another. The lodge was in the bottom pond, which was also the largest. The effect of the serene grassy meadow, the mirrored ponds and the sound of gurgling water made for a magical atmosphere.