2/2/2005 The drive north on Hwy 1 from Santa Cruz is so beautiful. The elephant seals weren't especially active this time of year -- mostly females and it was a little early for calves. We stopped for the night at an RV park off Hwy 280 in Pacifica for the night and it had dramatic cliffs with pounding surf and chilly howling wind -- typical San Francisco. We couldn't help but sympathize with the workers that were washing RVs in one corner of the park. Mostly due to the weather we weren't tempted to dally. The Golden Gate Bridge looming in the distance as we drove through San Francisco seemed to provide a symbolic exit from 'home turf'.
The Coast Route through Northern California and Oregon is a wonderfully scenic ribbon of asphalt more suited to a sports car or a motorcycle than a motorhome. As we wound our way north, we enjoyed the view but didn't linger. The ticks were rampant in the campground we stayed at along the 101 south of Ukiah. Carissa got one embedded in her shoulder that we didn't get out until it had been in her for several hours. Needless to say, that was a noteworthy journal entry for her.
We broke our steady pace north for a tour of the Tillamook cheese factory in Tillamook Oregon. As usual, it was raining as it had off and on for the entire trip. But poor Tillamook is at the delta confluence of several small rivers and some of it's main streets were absolutely flooded. Aside from being an interesting break, it was a good chance to exercise the teaching resources that traveling offers for the kids. It turned out to be a worthwhile tour and a great lesson. The tour did a great job of showing how modern, clean, and highly mechanized the process of making cheese is. The real teaching value of the tour was apparent when the kids realized that a lot of people make their living standing in front of a machine on an assembly line. It led to some interesting conversation about jobs & lifestyles.
Arriving in Bellingham seemed more like a return to old familiar territory than a leg on our 'Great Adventure'. In fact Bellingham really is old familiar territory as we lived there for several years in the late '80s and early '90s. In fact, Ian was born here -- yes, he is a Bellinghamster. We stopped to help with refurbishing part of Mom's house. While the focus has been on painting, plumbing & cabinetry, we've also taken time to tend to personal business. We signed the kids up with the online correspondence school known as Keystone National High School. We actively researched and then [successfully] applied for health insurance too, Two big issues taken care of.
Our time in the great Northwest hasn't been all work, though. We took an afternoon to drive south to an area where Snow Geese winter. While driving on the main road into La Conner, we saw a field that was partially covered in white. The white wasn't snow, it was Snow Geese. There were thousands of them.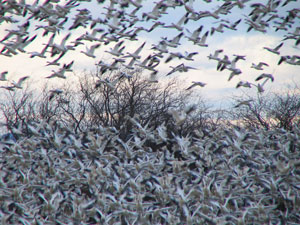 They covered several acres of the field, and they moved with nearly a single mind. The entire flock would linger on the ground with heads down grazing. After a few minutes feeding, some of the birds would take flight and the movement would spread through the rest of the flock like a wave surging against a rock before exploding into the air. I had heard of flocks of birds so numerous that they'd blacken the sky but I had never imagined how intimidating it would be when they flew low overhead. I had also never imagined how noisy several thousand geese could be!
We also had a quick afternoon visit to Vancouver. It was like visiting an old friend who's company was always enjoyable. Vancouver is a wonderful city where sea planes take off from downtown and Totem Poles decorate the parks. While the downtown area of Vancouver has the density and history of one of the old eastern cities in the US, it has a different personality. This is a city with a distinctly British heritage (even though everything you buy has labelling in French).
One of my favorite places in Vancouver is Granville Island. It's a wonderful complex of old warehouses that has been converted to shops and a marvelous Farmers Market.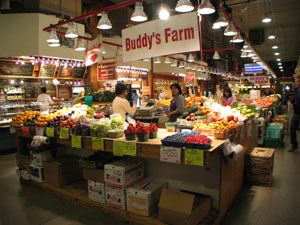 It's a great place to snack on treats that are nearly impossible to find in the States (like scones, pasties & Sausage Rolls). The quality of the fruits & vegetables is delightful. The surrounding shops and art galleries provide a great excuse for a post-feast stroll.
We'll see more of Vancouver and a good deal of Vancouver Island in the coming weeks. In the meantime, it's back to painting and some electrical work.